Application areas:
It is widely used for cleaning electronic parts, electroplating parts, precision hardware, watchband, watchcase, spectacle frames, lenses, jewelry, semiconductor wafers, glassware and so on.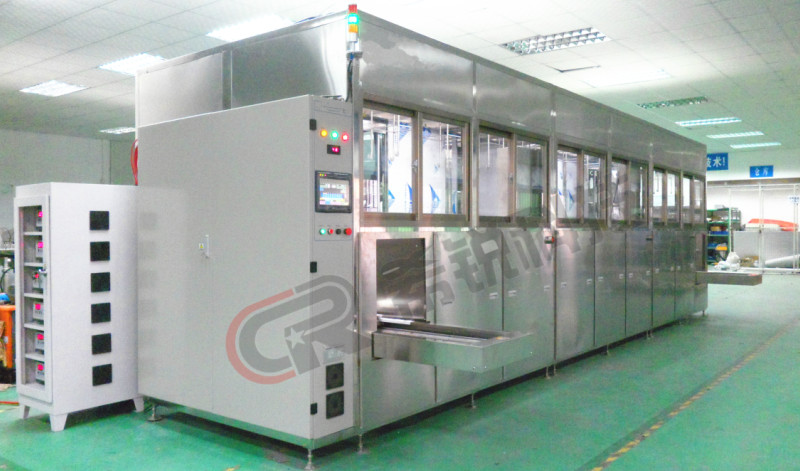 Features:
1. Various equipment type: The full-automatic and semi-automatic mode can be converted to each other,and the structure design is scientific and compact.
2. High output,high yield rate,clean thoroughly,running stably
3. Program Control: All line is controlled by PLC program, we can flexibly select the tanks to use, and can also modify the process according to the actual situation through the control system interface. We can monitor the data, operation and so on through the human-machine interface touch screen.
4. Environmental-friendly and Energy- saving: The water in cleaning tanks of the whole line is automatically reused,which can achieve zero-emission. (Except the chemical tank, the special reuse system is for the chemical tanks.). The ultrasonic cleaning tanks are equipped with circulating filtration system. There are three modes. One is continuous filtration, one is the circulation after the product leave the tank, and the other is manual mode.
5. Full Automation: The manipulator is driven by the servo motor,its positioning is accurate, stable and reliable,and its speed is adjustable.
6. Safe and reliable: The whole line is equipped with first class safety protection such as travel switch, light sensor, temperature controller and automatic alarm system. It can handle the problems that may occur in the cleaning process in time,which get high praise from European customers.
7. Long Lifetime: The material of the whole line has the quality assurance,the main electric appliance uses MITSUBISHI, OMRON, Schneider and so on brand, the quality is reliable.